Eyeworld December 2015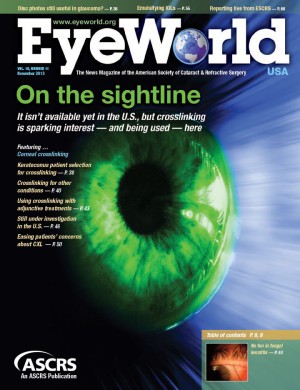 In the December 2015 edition of EyeWorld Magazine, the official publication of the American Society of Cataract and Refractive Surgery, a number of eye surgeons discuss the importance of evaluating refractive and cataract patients using objective measures. Drs. Alio, Dexl, Kezirian and Lawless point out that while subjective patient assessment of visual outcomes is key, objective measures are also a critical piece of the analysis. The authors agreed that the value of objective measures is growing rapidly as many new vision correction technologies emerge.
Contrast sensitivity was noted by the authors as one of the key objective measures that should be used in clinical practice. Dr. Michael Lawless of Sydney, Australia described how he uses the VectorVision CSV-1000 with and without glare under mesopic and photopic conditions in order to objectively assess patient outcomes. This VectorVision test was used in conjunction with stray light tests and patient questionnaires.
To read the full article, click the link below.
http://www.eyeworld.org/article-assessing-objective–subjective-clinical-outcomes