About Us
VectorVision specializes in the standardization of contrast sensitivity, glare sensitivity, low contrast acuity, and ETDRS acuity vision testing. Our patented standardization systems provide the practitioner or researcher the ability to delineate very small changes in visual capability, either as compared to the population or from visit to visit. We have made significant strides to develop new and better types of tests during our first 30 years of existence and will continue to make these strides in the future.

David W. Evans, Ph.D, MBA is the founder of VectorVision and the inventor of the CSV-2000 and CSV-1000. Dr. Evans is internationally known for his work in vision assessment and speaks widely at medical and scientific meetings.
Dr. Evans has also worked as a consultant and has participated in the development of study protocols and/or data analysis for clinical studies sponsored by AMO, Alcon, AcuFocus, Pharmacia, Otsuka, Novartis and others. He has published more than 30 scientific articles and book chapters in the areas of refractive surgery, glaucoma, ocular blood flow and visual function. He also holds 7 patents for optical and vision testing devices. He speaks widely about contrast sensitivity testing, including presentations at American Society of Cataract and Refractive Surgery, European Society of Cataract and Refractive Surgery, Japanese Society of Refractive Surgery and the Chinese Academy of Ophthalmology.
Dr. Evans co-founded an Internet medical marketing communications firm specializing in eye health in 1996, and later co-founded Ceatus Media Group LLC in 2004, for which he currently serves as CEO. Ceatus publishes a variety of consumer health sites catering to eye health, including Refractive Surgery News and Better Vision Guide.

Tamara Evans is the co-founder and VP of Marketing of VectorVision, Inc. Ms. Evans has been instrumental in establishing the VectorVision worldwide brand, promoting the use of VectorVision devices in more than 60 countries. She has brought considerable experience to VectorVision from her positions as product manager at Heidelberg Engineering, Senior Analyst at the Air Force Logistics Command and Director of the Metrics Center of Excellence at Innolog Corp.
Ms. Evans feels very strongly about the impeccable scientific credentials of the VectorVision products and has been a contributing force in both the development of the only published contrast sensitivity population norms as well as establishing the VectorVision instruments as the worldwide benchmark for contrast sensitivity testing. The VectorVision population norms are widely used as a reference for FDA and other clinical trials, and as a basis for more than 200 peer-reviewed papers. In additional to a Bachelor of Science degree in economics from the University of Dayton, Ms. Evans holds an MS degree in Statistics from Wright State University. Ms. Evans also serves as VP of Marketing for Ceatus Media Group LLC located in San Diego, CA.

Note from Vice President, Operations, Brian E. Wilson
At VectorVision, our mission is simple. We produce the best vision testing technology and provide the best customer service in the world. We individually calibrate and inspect each device before it leaves the factory to ensure the highest possible quality. Instruments used for individual practitioners receive the same quality control as those destined for the FDA clinical trials. Any request for information or for technical assistance is typically answered within 24 hours. Our shipping staff can deliver our patented technology directly to the doctor's office door virtually anywhere in the world, which provides the capability for our clients to deal with the factory, or through a distributor. We have clients in more than 60 countries and have one of the best performance records for any piece of ophthalmic equipment. I take great personal pride in the durability and quality of our equipment. Please contact me at any time if you have a question about our equipment or technology. Also, I would like to thank the many doctors and their staffs who have supported us during the last 30 years.
Featured Product
CSV-2000
CSV-2000 The first and only all-in-one digital vision testing device that offers the full range of vision tests, along with STANDARDIZED contrast sensitivity, glare and visual acuity.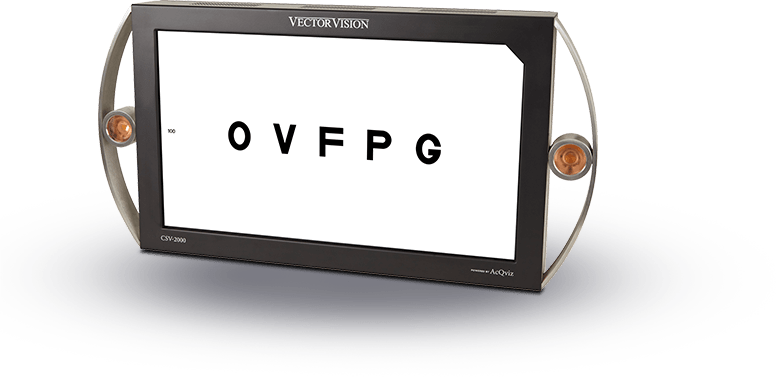 AcQviz Auto-Calibration
Includes the patented AcQviz technology that automatically measures monitor luminance and adjusts testing to the recognized FDA vision testing luminance standard of 85 cd/m2.
---
Standardized to the testing light level recommended by the FDA and ANSI

Easy-to-use remote control allows rapid integration into patient flow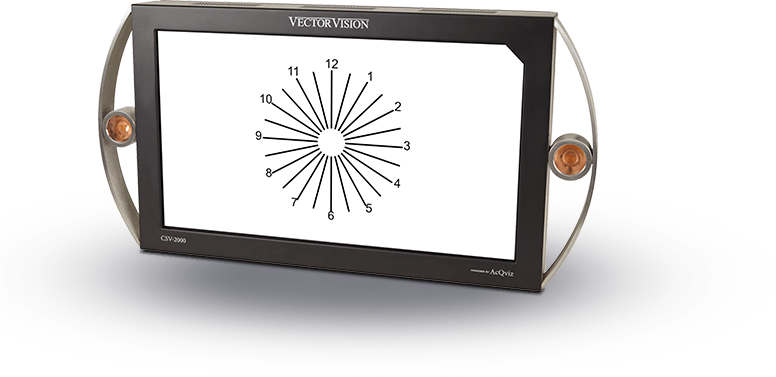 Full Range of Vision Tests
Includes the full range of vision tests, including acuity, astigmatism, convergence, color, depth, etc. and the proprietary VectorVision contrast sensitivity and glare tests.
---
Standardized to the testing light level recommended by the FDA and ANSI

Easy-to-use remote control allows rapid integration into patient flow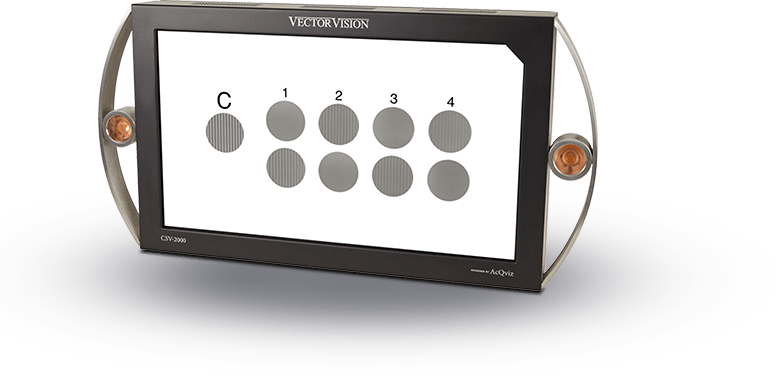 Scientifically Validated Contrast Sensitivity Testing
Uses the same contrast and spatial frequency range that is validated by more than 100 scientific papers and provides the only published population age-norms.
---
Standardized to the testing light level recommended by the FDA and ANSI

Easy-to-use remote control allows rapid integration into patient flow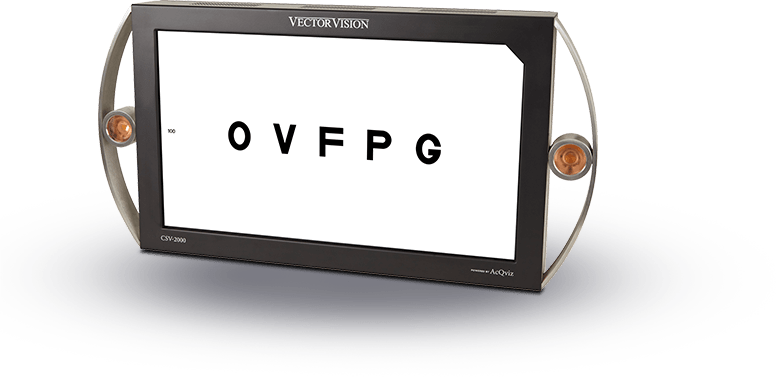 Rapid Testing
Remote control provides the ability to easily switch between tests. All tests are designed specifically for a computerized format, thus making testing fast and easy.
---
Standardized to the testing light level recommended by the FDA and ANSI

Easy-to-use remote control allows rapid integration into patient flow
Why VectorVision?
---
As treatments evolve, so must the testing technology
View More Videos
Over the last 20 years, VectorVision testing equipment has become the worldwide benchmark for standardized contrast sensitivity, glare and ETDRS acuity testing.
Read our Reviews