Criterion for Glaucoma Detection and Measuring Treatment
Summary: Contrast sensitivity is gaining popularity as an adjunct to perimetry for management of glaucoma patients. Clinical use and research studies show that it is sensitive to early vision losses and can track the efficacy of treatment. Indeed, the vast majority of ganglion cells reside in the central vision. Since glaucoma is a disease that causes the death of retinal ganglion cells, a sensitive measure of central vision, like contrast sensitivity, can be very useful in measuring disease presence and progression.
Background:
Assessment of peripheral vision remains the primary visual function measurement for glaucoma detection and progression. Perimetry is the well-established standard of care and is a very important test for many reasons, including high specificity for the vision loss patterns associated with glaucoma. However, standard perimetry, as normally tested using larger spot sizes (III or higher), only measures peripheral vision. Interestingly, new data shows that central vision is affected by glaucoma and these vision changes are not detected by standard perimetry.
The tests offered by the CSV-2000 and CSV-1000, because they provide accurate measures of central contrast sensitivity, can add significant diagnostic and disease evaluation information for the assessment of glaucoma patients. This data is supported by anatomical information of the retina which shows that the vast majority of ganglion cells, more than 70%, reside in the central 5 or 6 degrees. Since glaucoma is a disease that causes the death of retinal ganglion cells, a sensitive measure of central vision can be very useful in measuring ganglion cell dysfunction and in assessing the presence and progression of the disease. Further, studies indicate that central vision changes due to glaucoma, as measured by contrast sensitivity, occur more quickly than peripheral changes as measured by perimetry. These measurements of central contrast sensitivity are useful for earlier detection of vision loss and for tracking the efficacy of glaucoma medication. This advantage of contrast sensitivity is particularly important given the long time frames (often years) needed for perimetry to detect changes in visual function associated with glaucoma and treatment.
The paragraphs below describe a number of studies demonstrating the value of contrast sensitivity for glaucoma evaluation and outline the clinical protocol for using the VectorVision contrast sensitivity tests to better manage glaucoma patients. One of the major advantages of the VectorVision tests is that they provide a very quick, repeatable and reliable test for standardized contrast sensitivity. Patient testing requires 2 minutes or less per eye. When evaluating glaucoma patients, it is best to test all four spatial frequencies of contrast sensitivity, Rows A, B, C and D (spatial frequencies 3, 6, 12 and 18 cycles per degree, respectively).
Useful in Two Ways
Contrast sensitivity (CS) is very useful in two areas of glaucoma evaluation. Data now shows that prior to treatment, glaucoma patients exhibit abnormal contrast sensitivity and this abnormality can be used to assess the presence or progression of the disease. Following treatment, 60 to 70% of the patients show clinically significant improvements in CS. Contrast sensitivity can be used to evaluate the patient response to the initiation of therapy or to a change in therapy.

Use of Contrast Sensitivity for Glaucoma
Contrast Sensitivity Aids in Establishing the Presence of Glaucomatous Vision Loss Prior to Treatment
Clinical use has isolated three primary criteria which can be used to determine whether a glaucoma suspect has abnormal contrast sensitivity prior to treatment. Example graphs of these criteria are shown below. All three criteria are based on the patient being tested with best correction such that any vision loss detected by contrast sensitivity is not due to refractive error.
Below the Normal Range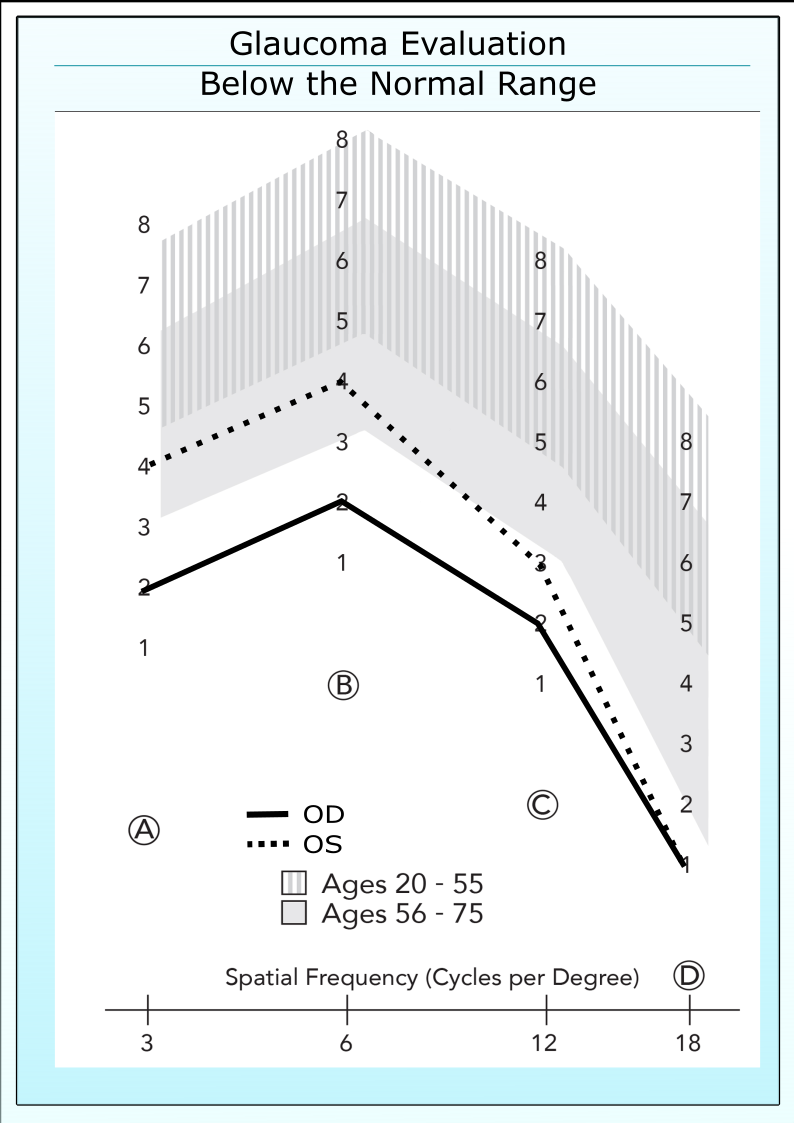 If a patient has good acuity, 20/30 or better, then he or she should have good contrast sensitivity. One hallmark of early glaucoma is that patients fall outside the normal range (patch 3 or below in either Row B or Row C), even when acuity remains normal. An example is shown on the left. It is important to keep in mind that this criteria can be confounded by the presence of other eye diseases, such as cataracts, diabetes or macular degeneration. If a glaucoma suspect presents with other eye diseases, then this criteria must be used with caution.